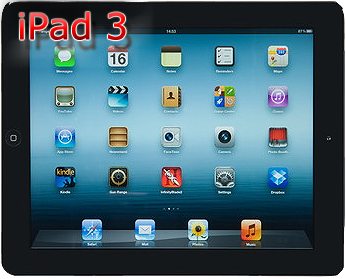 Features of the New iPad 3
Apple released the new iPad 3 last week. Learn about iPad Apps, iPad cost and new features offered, all in one place. It seems the world constantly awaits Apple's unveiling of their latest and greatest product. Apple made the iPad three available to buy in stores at 8:00 a.m. on Friday, March 16, 2012 and reported selling a record three million devices during its launch weekend. Apple, instead of naming its third-generation tablet the iPad 3 or the rumored iPad HD, simply named the iPad 3 "the new iPad."
The new iPad features an all-new Retina Display with a screen resolution of 2048 X 1546, and Apple has touted it as "the best display ever on a mobile device." The display has a million more pixels than an HDTV at 3.1 million pixels. The new iPad also features an A5X, a dual-core processor with quad-core graphics. The original iPad and the iPhone 4 featured an A4 processor and was followed with the A5 processor in the iPad 2. Apple reports that the A5X GPU is twice as powerful as the iPad 2.
The iPad 3 features Apple's 5-megapixel iSight camera with auto focus, face recognition, and exposure functions. With the iSight camera, the new iPad can capture HD video in 1080p. As for a fast web experience, the iPad 3 supports Wi-Fi and fast cellular networks, up to 4G LTE. Not only that, but the new iPad can also act as a personal hotspot, allowing up to 5 devices to share the iPad's high-speed data connectivity. Apple also included one of the iPhone 4's most popular features in the new iPad: voice dictation. Users can speak into the iPad's microphone and quickly see their spoken words appear as text on the screen. With all of the incredible features of the new iPad, Apple has also designed the new iPad with a 10-hour battery life.
New iPad Apps for the iPad 3
Apple has also introduced an impressive array of new iPad apps for the iPad 3. Some of the new iPad apps are designed specifically to take advantage of the the iPad's new high resolution display. Apple released a list of these new iPad apps on the iTunes store under "Great Apps for the New iPad." Both Amazon and Apple have updated their e-reader apps for a new display designed to be easier on a reader's eyes. Several games have been designed specifically for use with the iPad, with racing games being touted as well-suited to the new display. Apple has also made all the applications in their iLife Suite available for the iPad for the first time.
With impressive new features and intuitive new iPad apps, the new iPad looks to be a great buy. The cost for the new iPad starts at $499 for the Wi-Fi enabled 16 GB model and $829 for the higher end 64GB 4G enabled model.
What features are you most excited about in the new iPad?
What personal projects could you use the new iPad for?