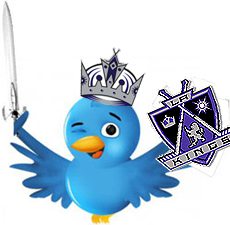 The Los Angeles Kings have recently been breaking all the unwritten rules of professional sports teams and social media. In a world where teams and public relations departments live in constant fear of saying the wrong word or phrase that might garner them negative media attention, The Kings have decided to throw caution to the wind, and all results indicate that the new approach is working very well. Given the team's incredible success in the 2012 NHL Playoffs, it seems logical that many other sports teams will soon ramp up the aggression of their correspondence with their fans.
A professional sports team typically assigns the twitter posting duties to one of the members of the public relations team, and they keep the posts conservative and unspecific. In no instance, most teams believe, should you ever mock or otherwise belittle your opponent. I guess when you're playing an ice-based sport in Southern California, there is little point in following traditional rules.
Twitter's love affair with the Kings began in the first round of the Stanley Cup Playoffs, when the Kings chopped down the top-ranked team in their conference in convincing fashion. The Vancouver Canucks were primed for a return to the Stanley Cup Finals, but the 8th-ranked Kings beat them four games to one before posting, "To everyone outside of BC, you're welcome." The move was bold, unprecedented and met with overwhelming approval in the Twitter-sphere. In the last month alone, the LA Kings Twitter page has added over 62,000 followers. An overtime victory in Game 1 of the Stanley Cup Finals is sure to bring even more attention to the overachieving band of brawlers and finesse players.
Naturally, the New Jersey Devils are the new target of the new social media darling, and the fingers behind the Kings account typed out a line that did not disappoint. "Aside from fist pumping, what else is there to do in New Jersey?" This was met with a storm of re-tweets on Twitter and colorful comments on other social media sites. The New Jersey Devils note that they have added nearly 20,000 followers during their run toward the championship, but it pales in comparison to the large swarm that is now following every move of the underdog hockey team that is now only a few steps away from history.
What are your thoughts on the way the Kings are changing the rules in Social Media?
Do you think other teams will follow suit next season?