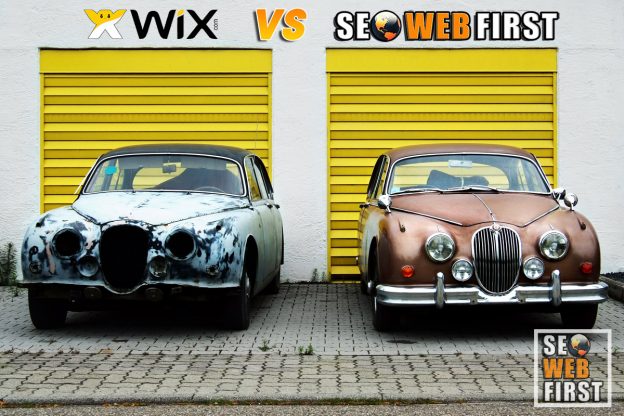 In the modern era, EVERY business can benefit from a good website design. With the help of search engines, a website is often the first impression potential customers have on a business. It is the product they will judge a business by before they even visit it.
Fortunately, now a days you have different options to choose from for building a website. You may opt to use a professional team that is experienced with web development and website design or you might be tempted at trying to build a website yourself with a website builder, such as Wix. Both options have their advantages and disadvantages. That is why it is important to do your research before you jump in with both feet!
Learn about the pros and cons of using website builders like Wix versus hiring a web design team/web development firm to create a custom website design.
Pros of Using Wix or Other Website Builders
The biggest advantage Wix has is that it is immediately available. Since all of the custom website design features and templates are built right into Wix, anyone can begin using Wix right away.
Wix has templates that are suitable for most companies, especially those who just need a simple virtual billboard that displays what they have to offer. A nonprofessional can get a good looking website up and together in a few hours, and produce something reasonably professional looking within a few days.
Cons for Using Wix or Similar Website Builders
Wix is tempting, but it isn't all that customizable, and it has limited features. While it may seem like a perfect solution for a small business (ie. local restaurant), it has limited features. It definitely isn't use-able for larger chains, or even small franchises which may need multiple region-specific websites.
The lack of true customization may put off some tech-savvy customers. Since only a limited number of widely known templates are available, Wix websites quickly end up looking very similar, which can make a website appear generic.
Wix's lack of customization also presents a disadvantage when a website needs dramatic change, for example integrating an online store or other custom software.
Website builders like Wix are also limited in scope, and unable to accommodate the needs of many "edge case" businesses and organizations outside their usual customer base.
In the long run, Wix has the downside of costing more money, since the monthly fee does not change over time. It will quickly exceed the cost of a custom website design.
The biggest deal breaker for most companies is that Wix requires users to run ads on their site (unless they buy a premium plan), in order for them to recuperate operating costs. Since these ads may be those of competitors, many companies refuse to use Wix.
Why Hiring an Experienced Web Design Team is the Way to Go
Many people will be happier hiring a website design team to create a custom website for them. While this presents a higher initial cost, long-term operating expenses are reduced. Once it is built, it is yours forever. Therefore it becomes an asset to your business rather than a liability. Additionally, while hiring a custom website design team means that any changes needed are done by professionals who can produce more efficient and exact results.
Professionals can suggest necessary changes or upgrades to keep the site up-to-date with the latest technology and design. A custom web design firm can also suggest areas for expansion and new features, as well as write custom code specifically to provide a company with features their customers want.
Flexibility is the biggest advantage for a custom website, since solutions for customers and businesses alike can be satisfied with the proper code.
The Moral of the Story
In the spur of the moment, Wix and other website builders might seem like a good idea, but in the long run it could cost you more time and money. In our opinion it is better to leave the web development to the professionals. Hire a custom design firm to build your company website and stick to where you are already experienced….running your business!
If you are in need of a website, or would like to upgrade your current website, contact us to find out what we can do to help push your business to the next level.