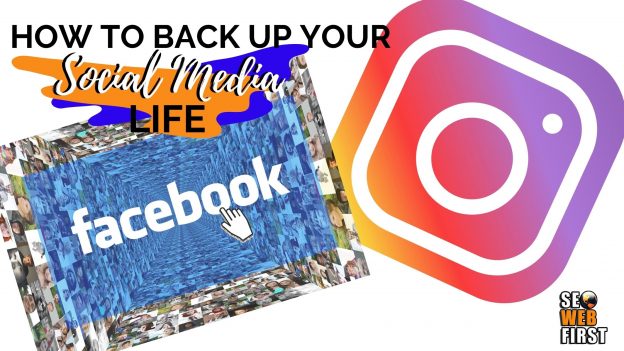 What happens if your social media accounts get hacked? Or they go offline? This is how to Back Up Social Media Facebook & Instagram Accounts.
One of my favourite features of Facebook is the Memories that come up. I love how Instagram has a gallery of all the photos I have posted of my children growing up.

I have 1000's of Saved posts and other items I plan to use for business, or that I want to remember. I have a lot of online contacts that I enjoy connecting with on Instagram.
These are the things I think of on a day like today where these social platforms are down for who knows what reason. These platforms that we have no control over. These platforms that don't have an automatic backup option like websites do.
Instagram Down, Facebook Down…Now What?
A scary thought for some people about what would happen if they stayed offline FOREVER.

A good reminder that we do not own these social media platforms. Our followers and the audience that we have built up could be lost in a blink of an eye.

When it comes to online sources, the only 2 things we own are our website, and our email lists. Even those aren't 100% reliable, unless you have a backup of them elsewhere.
The good news is that even though Facebook and Instagram don't have automatic backups, they do allow you to manually back up your content. I know this is a boring task, but it is one that costs you nothing, and can save you a meltdown!
How to Backup Your Instagram
Instagram allows you to download all of your photos, and other information: likes, comments, contacts, captions for your photos (including hashtags), videos, searches, settings, and more.
The pros are that your photos will all be JPEGs and sorted by the date. The cons are that your photos resolution will be lower, and the other stuff you save will will be packed in JSON files (JavaScript Object Notation). You can still read them using some simple text editing software such as WordPad, Notepad, or TextEdit.
How to back up your Instagram using your Android or iOS app
To download a backup of your Instagram profile on a mobile device or a tablet, you need to do the following:
Open the Instagram app.
Tap your profile icon in the bottom right corner.
Tap the menu icon in the top right corner, then tap Settings (it is hidden in the bottom right corner of the menu).
Scroll down to Security. Then select Data Download.
Accept the email given or change the e-mail address for where you want the files delivered to.
Confirm the e-mail address and put in your Instagram password.
Now wait, usually only a few minutes, but can be up to 48 hours, for Instagram to e-mail you a link to download the archive with all of your data.
Click the link. It will opt you to log into the Instagram website with your information. Then click Download data to start downloading the ZIP archive with your photos and other Instagram profile information.
How to back up your Instagram using a Laptop or Desktop
Using a Web Browser for getting your Instagram profile backup can be easier. You need to do the following:
Type Instagram.com into your browser and log in.
Click your profile avatar in the top right corner of the screen.
Click Edit profile next to your name.
In the menu on the left, select Security.
Scroll down and click Request Download under the Data Download subheading. Instagram will send you the e-mail with the link to the archive of your profile photos & other information.
The rest is the same as above –> Open the e-mail and click the link.
Log in to the Instagram website.
Click Download data to start downloading the ZIP archive with your photos and other information from your Instagram profile.
How to Backup Your Facebook Account
What would happen if your Facebook Account was hacked, and you could never get it back? Or what if Facebook was down, like it is today, and never cam back online? Who knows, maybe Mark Zuckerberg might decide he has made too much money now and wants to end the Facebook era?! (I doubt the last one, but still, it could happen).
The good news, you can back up your Facebook account, once it is back online that is. We are going on 2 hours of it being down at the moment.
How to back up your Facebook Account:
You will need to do the following on a laptop or computer, this files will be too large to do it from your mobile device.
Login and go to the settings tab in the dropdown menu in the upper right hand corner of your Facebook home page.
Once you are in the settings section, go to the tab labeled, your Facebook information.
Next, select download your information.
Choose the date range you would like to download and save, as well as select the items to save – posts, photos and videos, comments, etc.
Voila, you are done! Well, almost….
Backup Your Backup
It is a good idea to have more than 1 backup. Some people even have 3. There really isn't one guaranteed backup option that will not fail. So better your odds with multiple backups.
Backup Ideas Include:
Using an External Hard drive
Backup onto a cloud system like Google Drive or Dropbox
Copy Everything to a USB Stick
Print Out Physical Copies
Let me know in the comments below how often you backup your work? Which ways do you like for backing up your work?