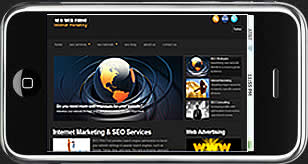 How a Business Can Benefit from Mobile Marketing
Mobile web usage is rapidly increasing to the point that web developers and business owners can no longer afford to ignore it. Many consumers are now accessing the internet through mobile marketing, using hand-held devices. The increase of mobile internet use has been driven by faster mobile broadband connections and cheaper data services. There has also been an increase of people buying mobile phones with a cheap data plan over buying a laptop or desktop for internet use. Internet users are purchasing tickets, clothes, vacations, sporting goods and more through their mobile device, emphasizing the importance of mobile marketing for businesses.  They also use their phones for booking reservations at restaurants, buying movie tickets, getting reviews on the best deals – the list is endless.
If you are interested in reaching new customers and making life easier for the customers you already have, then you need a mobile site and to begin mobile marketing. The increase of internet access through a hand-held device over a desktop is increasing each day. A mobile site is an effective way to engage customers and to share your information.
How is a mobile website different than a classic website? Mobile sites are created to fit smaller screens so that they are readable on a hand-held device. Mobile webpages are simplified by removing unnecessary images, and slow loading content is reduced. The mobile site is based around consumers on the go. To make the navigation easy to use on a touch screen phone, a mobile site needs "finger friendly" buttons and links, visual clutter should be reduced to increase the loading time and the popular content should be easy to find.
Statistics about mobile internet use:
   5.3 billion People are mobile subscribers.
   Mobile e-commerce is increasing faster than online e-commerce. It makes up 4% of the total retail sales. This includes sales of computers, electronics, movies, music, tickets, books and video games.
   The average iPhone user only uses their hand-held device for making phone calls 45% of the time.
   Video rational is 69% of the mobile data traffic.
   The number of users accessing the social web through their mobile devices is increasing every day. (i.e. More than 350 million active users are accessing Facebook through their hand-held devices).
   The most popular mobile messaging is SMS. 8 trillion text messages will be sent in 2011. Mobile email, Multimedia Messaging Service (MMS) and Instant Messaging (IM) are also increasing.
   Application to person (A2P) Through SMS is expected to pass person to person SMS in 2016. (i.e. Automated alerts from banks, phone companies, e-tickets etc.)
   Most popular mobile places: weather reports, social networking, news and information, search and maps.
   Consumers in North America choose mobile browsers for travel, banking, local information, news, video, shopping, sports and blogs.
   Consumers in North America choose apps for games, maps, social media and music.
   The mobile web 2.0 market is valued at $5 billion currently. It will be valued at almost $19 billion by 2014.
   9 in 10 aged 18-29 own a cell phone. 52% of them go online with their phones several times a day. Same as 52% of any age college student.
   65% aged 18-29 access the internet with their mobile phone.
   82% of all adults own a cellphone.
   19% use a cell phone only to go mobile.
   55% of all cell phone owners go online at least once a day.
Did you know that 71% of mobile users will do a mobile search after seeing a TV, press or online ad. Will they find your mobile website or your competitions? The increase and potential of the mobile market is astounding. The key is to learn the right mobile marketing techniques to target the mobile market without breaching on the privacy that a mobile phone has in place. It is becoming the new way of internet and if your business cannot afford to go unnoticed, then your business needs a mobile website and a mobile marketing campaign.