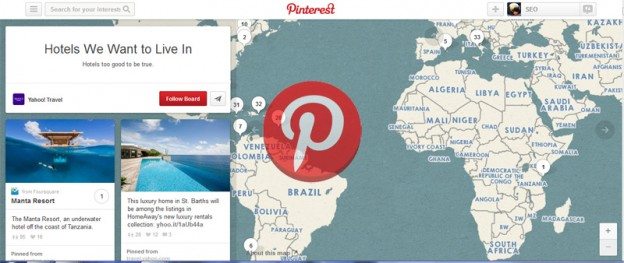 Place Pins – For the Explorer in You
If you have been on Pinterest in the last couple of days, you may have noticed pins with a map in the background and red pins placed all around it. Just this week, Pinterest introduced "Place Pins". It was created after noticing how Pinners have been creating more & more boards of places they would like to travel to, places they have already been and hot spots in their neighborhood. There are 1.5 million places pinned everyday and overall there are more than 750 million Pins of different destinations. This is Pinterests first step to turning Pinners dreams into reality.
Pinterest has designed Place Pins with a combination of beautiful imagery and the utility of a map online that is shareable. You can find new places on the go and get directions from your smartphone as well. It also includes the address & phone number right on the Pin so that you can easily pull up any information you need for your night out or a weekend adventure.
How Hard is it to Create a Place Pin?
Not hard at all. All you need to do is select "Add a map" while creating a new board or from an existing board click "Edit" first, then "Add a map". You can map all of your Pins on the board to help plan your next adventure.
Check out some of the most reputable names in travel that have already created creative boards to help inspire Pinners:
East Coast Beach Crawl from the Travel Channel
Gastronomic Travel from Four Seasons Hotels and Resorts
Top 100 Hotels in the World from Conde Nast Traveler
A Chicago Pork & Whiskey Tour from Thrillist
Australia from Gary Arndt of Everything-Everywhere
Place Pins is also a great advertising method for businesses such as restaurants, travel agencies, real estate companies & more. It is also a great personal tool to mark down places you have visited and restaurants you have eaten at, as well as a great way to bring your dreams to life!
What will your first Place Pin Board be of: Your next Trip or Restaurants that you would like to try?