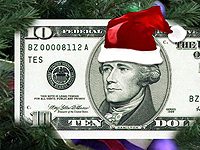 Why it is Important for Every Type of Business
Advertising Christmas, as opposed to focusing advertising on other holidays that occur during the year, is much more effective according to recent statistics. In today's marketing world, advertising for Christmas is critical, even more so than it was in generations past. With consumers bombarded with advertising while they are surfing online, during every television show, in the car on the way to and from work, even while standing on the subway, retailers must get creative in their efforts to reach consumers. Add to the mix the fact that many consumers are cutting back on holiday spending this year, and there is even more importance placed on Christmas advertising.
More Money Spent Than Any Other Holiday
Consumers spend more on Christmas than they do any other holiday. According to the American Research Group, shoppers say they plan to spend just over $800 on Christmas gifts this holiday season, down slightly from the $854 spent in 2012. This does not include money spent on other traditional Christmas items, such as specialty foods, decorations or clothing. The average household spends $302 over the entire Thanksgiving weekend, with approximately $55 of that spent on dinner. Statistics show that consumers spend approximately $140 on Easter supplies each year, while Halloween spending averages around $75. With such a significant difference in consumer spending at Christmas compared to other major holidays, it is clear that advertising Christmas is critical to any business success.
More than Just Gifts
At Christmas time, people spend money on more than just gifts for others, which means that advertising Christmas should be top priority to all types of businesses. There are foods that people only eat during the holidays, such as eggnog, fruitcake, gingerbread etc. Holiday parties require new clothes, shoes and jewelry. People decorate their homes, requiring them to purchase new lights, outdoor and indoor decorations, as well as supplies to display those products. Many people hire additional cleaning or maintenance assistance during the holidays to get their home or office in shape for visitors. Therefore, regardless of the industry, Christmas advertising is important to attract customers.
Christmas Traditions


Christmas for many people is steeped in tradition, from baking to decorating. Families hang calendars that count down the days until Christmas, and many parents spend time moving a little elf around the house. Traditions are another reason that people spend money during the Christmas season. For those that traditionally bake cookies or cakes during the holiday season, additional supplies or ingredients must be purchased in order to make those goodies. In fact, according to Forbes, people will spend over $90 on traditional holiday foods. Decorating traditions are expected to cost over $47, while mailing Christmas cards cost as much as $31. Including traditions when creating a Christmas advertising campaign, is another way to reach a larger target market.
Traveling Over the Holidays
In 2012, the average cost to travel to New York, which is the second most popular travel destination at Christmas cost $406, and hotel rates in many major cities are slightly higher than last year. However, even with prices rising, people will pay the costs in order to spend time during the holiday with family, say many experts. Therefore, Christmas advertising geared toward the holiday traveler is an excellent way to increase a customer base.
These statistics indicate how important it is for businesses to invest in advertising over the Christmas Holiday. With consumers spending significantly more at Christmas than any other holiday, including Thanksgiving, Easter or Halloween, it is critical to create an effective marketing campaign that focuses on the holiday season. Have you been Advertising this Holiday Season?